Plan for a better future today.
Whether you're just looking to get started, make your money last, or just want a second opinion, Consumers Financial Advisors can help. Let us learn more about you to help you in reaching your goals.
---
401(k)/Pension Rollovers
Traditional IRAs
Roth IRAs
Simple IRAs
SEP IRAs
Fixed Annuities
Index Annuities
Variable Annuities
Disability Insurance
Mutual Funds
Stocks/Bonds
Long-Term Care Insurance
Life Insurance
Education/College Planning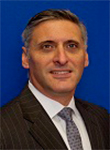 CRPC®
Financial Advisor
(847) 672-1833
[email protected]
1075 Tri-State Parkway
Ste 850
Gurnee, IL 60031


My Background

Helping you reach your financial goals is my number one objective. Working together, I'll help you make sound financial decisions consistent with your comfort level, investment time-line goals. We can start small and grow, or evaluate and build upon any existing financial plans. The end result will be a strategy designed to help you build, protect, use and transfer assets in the most advantageous way. Periodically we'll review your situation and make adjustments as needed. It just makes sense - as your life changes, so do your financial needs, and I'll be here for you at every stage of your life.

As a trusted partner of Consumers Credit Union, I have a strong history of working with credit union Members, their family and their friends. I have access to a wide variety of investment and insurance products. Specifically, we can make sure you have solid answers to these key questions:
Is your retirement money invested properly?
Will you have enough income in retirement?
What should you do with an existing retirement plan from a previous employer?
How will you pay for a child's or grandchild's education?
Financially, what would happen to your family if you died?
How will you pay for long-term care?
I am a Registered Representative of CUNA Brokerage Services, Inc., member of FINRA/SIPC. I am also a licensed representative of CMFG Life Insurance Company.

My Education

BBA in Finance from Baruch College, City of New York
Chartered Retirement Planning Counselor (CRPC)
FINRA registered
Life insurance licensed

It's easy to get started. Please contact me for a no-cost, no-obligation consultation.
Other Locations
Gurnee
Waukegan
North Waukegan
Let's get started! We'll work with you to help achieve your financial success.