Reset Online Banking Password User Guide
Online banking members can follow the steps below to reset their password using their profile or the "Forgot Password" link at home login. These options will be available to all members, both commercial/business and retail.
Change Password
Follow the steps below to change the password in the member's profile:
Log into Online Banking. Navigate to Settings > Security Preferences
Select Change Password


Enter the current password and enter and confirm the new password. Password is case sensitive. The password must be between 8 and 99 characters and must include the following:

At least one number
Minimum of one lower case character
Minimum of one upper case character
Minimum of one special character
Must not be the same as last 10 passwords
Once a password is entered and confirmed, click Change Password to continue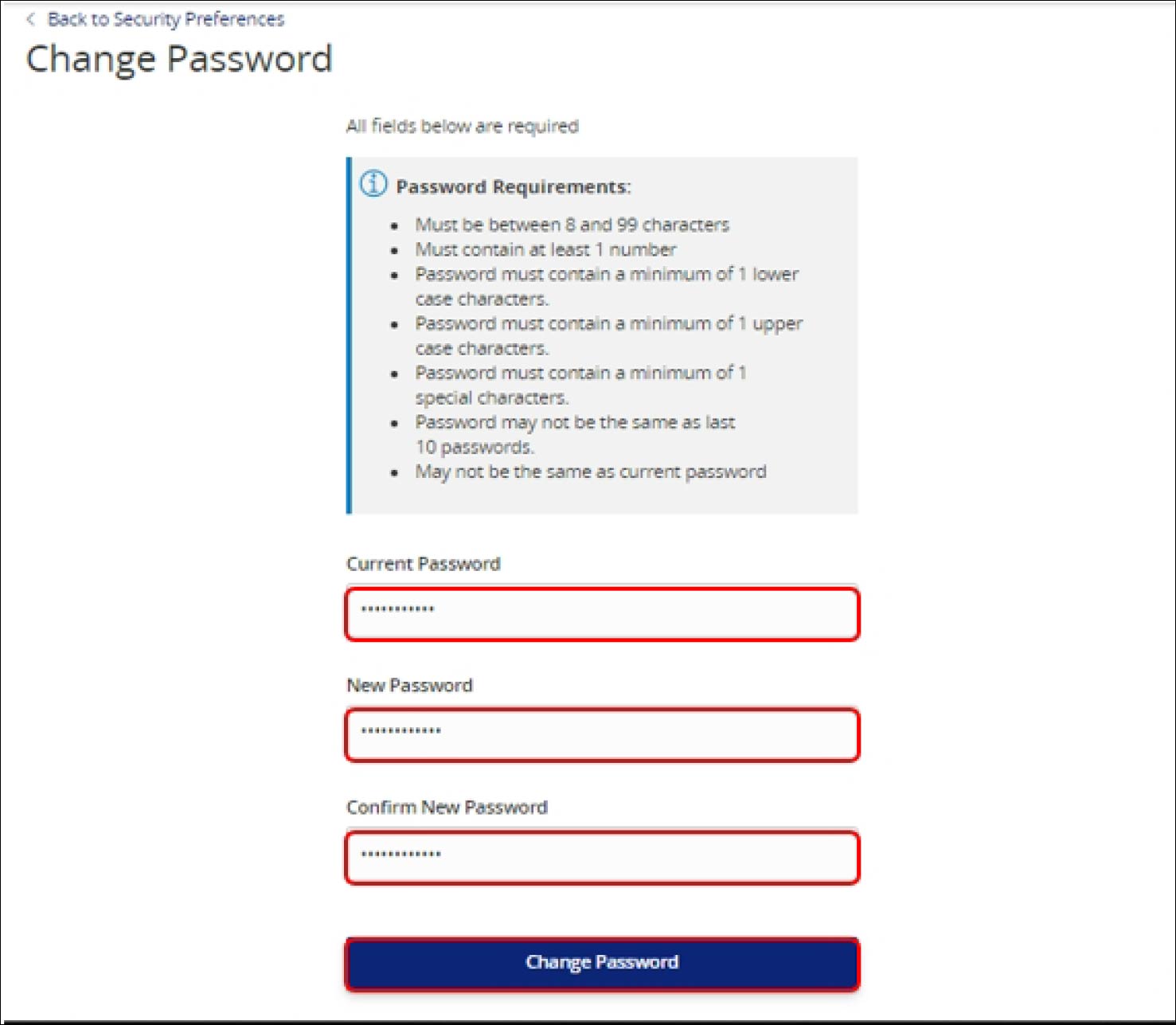 Forgot Password
Members can reset their password at the login page using the "Forgot Password" link.
From the home login page, select Forgot Password


Enter the member login ID (username) and select Submit


For security purposes, the member will be asked to confirm a secure access code using their email and/or number. There are 3 potential Secure Access Code delivery methods:

Text Message ‐ a 5‐digit code will be sent via text message to the phone number selected.
Call me ‐ a phone call will be received to the phone number selected. A 5‐digit code will be verbally read.
Email me – An email will be sent with a 5‐digit code into the email selected.

These emails and numbers correspond to information previously given to Consumer's Credit Union when a CCU account was created. Click on the email or number that is the most convenient.



When the Secure Access Code is received, input the code into the provided field of the next page. Click Submit to continue.


Enter and confirm the new password. Password is case sensitive. The password must be between 8 and 99 characters and must include the following:

At least one number
Minimum of one lower case character
Minimum of one upper case character
Minimum of one special character
Must not be the same as last 10 passwords

Once a password is entered and confirmed, click Submit to continue