A new banking experience
The Kildeer Service Center is now open and is located in the Kildeer Village Square, just south of Deer Park Town Center.
We are excited to announce the opening of our newest Service Center in Kildeer, IL. This full-service, contemporary Service Center aligns with our ongoing commitment to better serve our Members. This new location, our 10th Service Center, demonstrates our continued growth and our pledge to make banking more accessible.
This new, state-of-the-art Service Center features both in-person and video assistance from a knowledgeable and friendly team of Member-focused advocates. It also features interactive ATMs, mobile and text banking for personal and business banking including home loans and wealth management services.
Address:
20413 N Rand Rd.
Kildeer, IL 60074
Lobby hours:
9:00am - 5:00pm Mon - Thur
9:00am - 6:00pm Fri
9:00am - 1:00pm Sat
Walk Up ITM (Live Teller Assist):
8:00am - 6:00pm Mon - Thur
8:00am - 7:00pm Fri
8:00am - 2:00pm Sat

Welcome to a new way of banking:
Modern tech-bar for all your banking needs
State of the art interactive kiosks
Video banking, in-branch and via mobile phone
Mobile and text banking
An expanded lobby showcasing self-service resources
Drive-thru 24/7 ATM
Friendly and knowledgeable staff
Meet the Manager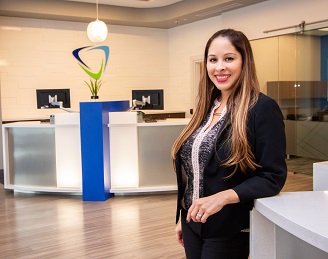 The Kildeer Service Center is managed by Adriana Bravo, who is a lifelong resident of the northwest suburbs, and is currently residing in Prospect Heights with her husband and two children. Adriana has been in the financial services industry for over 21 years and is excited to lead a team of employees who share the same mission of providing an exceptional Member experience. Adriana loves her position because it allows her to build personal relationships with Members and gives her the opportunity to provide solutions for our Members' needs.