Summer at Consumers
This past summer, Consumers hosted ten college students for our summer internship program. These students got the chance to explore what it is like to work in their desired departments and got to interact with leaders throughout the credit union. One intern, Gaby, tells us about her experience working in the marketing department.
"Throughout my first year of college, I was always told, "don't even bother applying for an internship because you're not qualified enough." As I was moving out of my freshman dorm, I received a call from Grace, Consumers' HR Analyst in charge of the Internship Program. She informed me that I have been selected as the Marketing Intern for the summer. As my full-time student life came to a summer break close, this opportunity opened up, and I became excited for my first "real" job.
During the duration of my internship, I was presented with many opportunities including getting to know employees and leadership in the organization every week during intern breakfasts, fun team building activities, and volunteering in the community. Additionally, presenting my summer project to senior management and my team was a valuable experience to show everyone what I'd been working on. Lastly, the opportunities to grow and learn within the marketing field and financial services industry were countless. Some of the projects I helped with include creating Member emails, website design, social media, event management, and communications for different company-wide and community events. The opportunities offered during the internship, on and away from the desk, made the program a unique experience.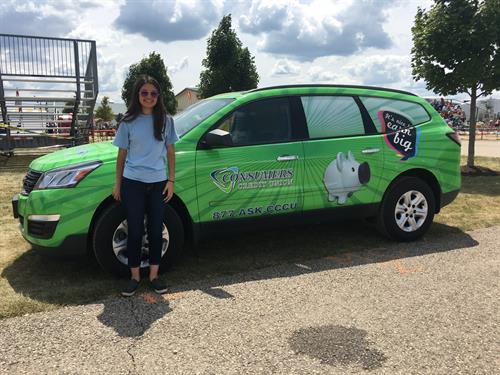 One of my favorite experiences with the Marketing department was attending the Lake County Fair, working the Consumers table, and driving the green machine! It's funny when everyone just stops and looks at our bright green car.
As I approach the end of my summer internship, I find myself reflecting on the entire experience. I have enjoyed my experience because I know the work I am doing every day is helping make the credit union an even greater financial institution and an employer of choice. I have been able to see the direct impact my work has had on Members, my team, and other departments in the organization.
Here are my main takeaways from the summer:
If you have an opportunity to learn Excel, take advantage of it. That knowledge was very helpful for my internship.
Marketing collaboratively works with every department to get the job done.
Consumers Credit Union values their employees. Even the interns were welcomed and appreciated throughout the summer, especially on National Intern Day.
C(C U) Later. Over and Out,
Gaby"

Check out our careers page to learn more about our internship program and any open opportunities.