Have you been to a CCU branch lately? If so and depending on where, you might have seen a tremendous transformation taking place. We're renovating several of our branches, and on top of that, we're opening a new location for your convenience!
Greater space, more ITMs, less waiting.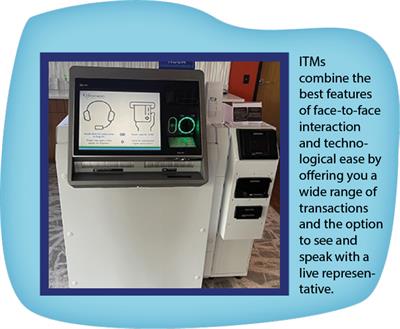 Not only are we increasing space and updating the look of many branches, we're also upgrading tech, specifically with the addition of Interactive Teller Machines (ITMS)!
Why waste time talking on an intercom and using a pressure tube – which takes 7 minutes on average – when you can speak to a local representative on a monitor and complete your transaction in less than half that time!
Click here for a list of ITM locations, hours, acceptable transactions, and a video tutorial on how to use them.
Where we're working
We've actually been doing renovations at every branch location since 2019, But in 2022 and 2023 we're really kicking things into high gear! The following branches are currently undergoing remodeling, or will be soon:
*NEW*Arlington Heights

950 E. Rand Road
Status: Now open!
4 ITMs – 2 drive-up + 2 lobby

Carol Stream

426 W. Army Trail Road
Status: Finished!
4 ITMs – 3 drive-up + 1 lobby

Schaumburg

1310 N. Meacham Road
Status: Finished!
5 ITMs – 3 drive-up + 2 lobby

Streamwood

990 S. Barrington Road
Status: renovations complete!
3 ITMs – 2 drive-up + one lobby

Waukegan

2750 Washington Street
Status: Redesigned to offer an even better member experience.
7 ITMs – 4 drive-up + 3 lobby

North Waukegan

2750 Washington Street
Drive-up – Q2 2024, 4 ITMs
Lobby – Q4 2024, ITMs TBD